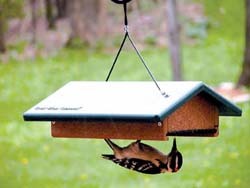 A Feeder They'll Flip For
If you have starlings hogging your suet, turn their world upside-down. Our EcoTough® Upside-Down Suet Feeder is designed to allow birds to feed from below, a comfortable practice for woodpeckers, nuthatches, chickadees and other clinging birds but difficult for starlings. Not only will it help you control your starling population, but it's also easy to refill, clean and hang.
EcoTough feeders and houses are environmentally friendly, high quality products that are made from recycled plastic milk jugs. These feeders and houses prevent used milk jugs from making their way into our landfills. EcoTough feeders and houses won't rot, crack, fade or warp like wood can. They also come with limited lifetime guarantees.